Services We Offer...
Bathtub Refinishing.
Custom match any color off the Sherwin Williams, Benjamin Moore or Behr color chart.
Fiberglass Inlay Repair Panel--for cracked and leaking fiberglass tubs and showers.
Lead Free products used in the refinishing process.
The refinishing process encapsulates the tub, protecting bathers and soakers - adults and children from lead exposure.
Multi-Fixture Discounts.
We'll even refinish the inside of your antique claw foot bathtub.
Great Service and a 5-Year Warranty in residential!
Free Estimates!

Please note:
We are switching gears and updating the Refinishing Services we now offer.
We will no longer be Refinishing:
showers, tub shower units/modules, wall tile, kitchen or bathroom sinks or countertops.
We will continue to do Refinish/Recolor regular bathtubs only and Fiberglass Inlay Repair for cracked bathtubs only.
Inlay Repair Panel for cracked
Fiberglass bathtubs and showers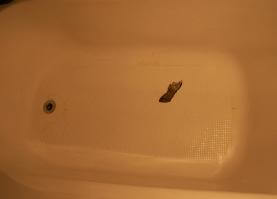 Before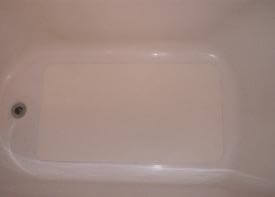 After

Visa, MasterCard, Discover are
accepted
with a 3% service fee.