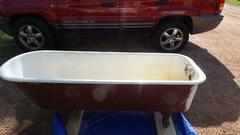 Our Claw Foot and accessories liqudating continues this Spring...here's what we have:

We have a 25"x72" bathtub, unfinished inside and out with original faucet and all 4 feet firmly attached ~$1,500.


We have a 4'… (30"x48" shorty) claw foot bathtub - totally refinished inside and out in excellent condition. Faucet goes with the time period and all 4 feet are firmly attached. We had a booth at the Lincoln County Fair for 20+ years – this was our display bathtub ~ $700.
And we have a single drainboard Kohler sink…. un-refinished ~ $350.00.
We have a random older time period faucet ~ $50.00.
Set of 4 Eagle Claw large feathered feet ~ $50.00.